How Kitty Litter Happens
I thought I'd post a little blog about how we put an episode of
Kitty Litter
together. One of our most frequent questions is how we prepare and draw our artwork so this should take care of that.
I figured I'd start out with my creative work place. These next two pictures are of my drawing table and they were taken by my
brother
.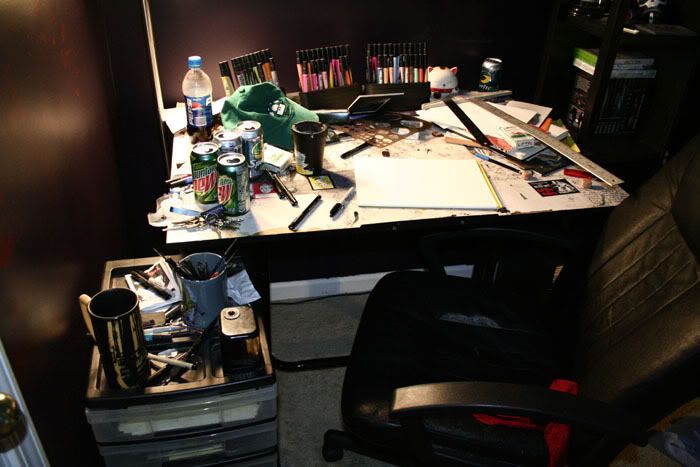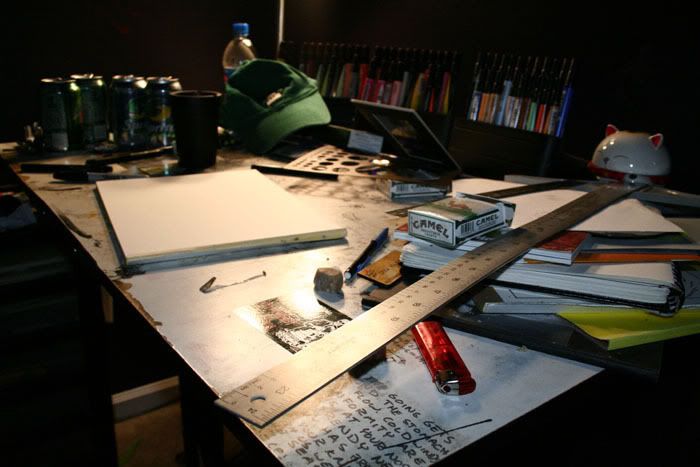 As you can see, I work in a pile of filth surrounded by what keeps me going. Cigarettes, Mountain Dew and ummm....more cigarettes and Mountain Dew. You know, healthy stuff. My drawing table is located in what we call in my household "the gameroom". I have a small sleeper sofa, a tv, all my video games, some light sabers, a Han Solo blaster and lots of toys scattered around the room. We painted it the darkest shade of blue we could find which is pretty much black for maximum video game playing capabilities. I also have a wide aray of zombie and b rated horror movies to keep my creative juices flowing. Also if you look real close you may be able to see the bloody hand prints we had our nephews paint on the walls. To say the least this room is my sanctuary and is my favorite room in the house.
Before any actual drawing takes place we have to write a story. If that's what you call what Nathan and I do. Writing , in my opinion, is the hardest part of doing
Kitty Litter
. I can draw whatever I want but if Nathan or I have no ideas then we have nothing to draw and a deep dark depression washes over me until we pick a last minute, ditch idea like I dunno zombie chipmunks, ninjas, vampires or in this instance tentacles. Writing can be the most frustrating part of the job but it can also be the most rewarding. Nothing makes me feel better than hearing from our readers about how much we make them laugh. It makes it all worth it.
Now let's move on to the actual drawing. The pic below is of the thumbnail layout I did for
Tentacles part 2
, which is the episode we'll be going through today.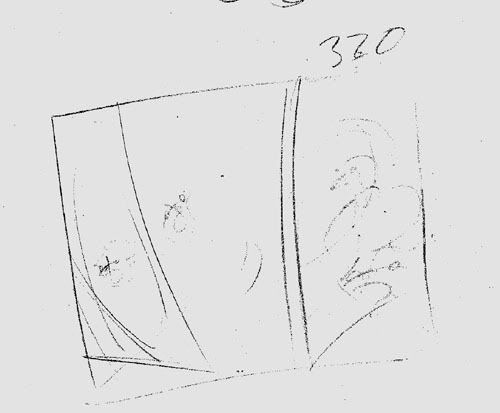 Can you even see what I was planning with this? This is surely one of the most undetailed sketches I've ever done mainly because I already had the basic idea of what I wanted to do in my head. I did this quick sketch mainly to get some compositional designs worked out. This is a step I sometimes skip depending on how a story is going. Occasionally I'll get my bristol board out without any planning at all, sometimes my layout is almost as detailed as the finished page. It just depends.
Next comes the penciling. I use a mechanical pencil with regular old pencil lead, no fancy, shmansy, artsy crap involved. I know I should probably use a lighter lead density and I have in the past as well as using non-photo blue pencils but I've never been too happy with the way those mediums feel against the paper as I draw, if that makes any sense. Every episode is drawn on smooth 9" by 12" Strathmore bristol board. It's not the cheapest but it is by far my favorite paper to use. I've used it for about seven years now and don't plan on switching any time soon.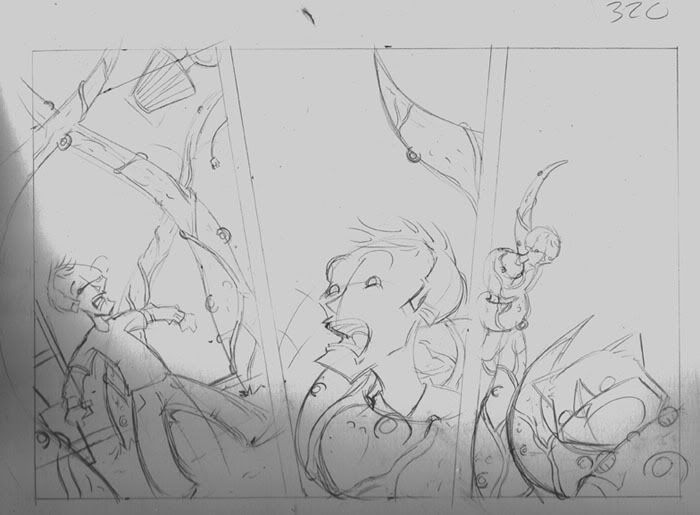 As you can see from the pic above I did a pretty detailed pencil of this page. I don't always do this. Sometimes the penciled page is as messy as the thumbnail. It just depends what's going on in the story and how familiar I am with the backgrounds and characters. With an action type sequence like this I wanted it pretty solid so the inking would be as easy as possible.
Moving on to inking. Currently I do all the inking on
Kitty Litter
, but Nathan has in the past. He inks all of our
">Slackmatic stories and did the first several Kitty Litter stories. When we took the strip daily it was virtually impossible for him to get everything done in time to go to "press", considering he lives in Virginia and I live in South Carolina. Yes we don't live together, or around each other like in the comic. We lied to you,I'm sorry. But Sophie is a mad scientist, I'd never go that far. Now where was I? Oh yeah, inking. So I ink everything now. I use faber castell pens. I use their brush pen for everything organic. The characters, trees, grass the tentacles in this episode...you get the idea. Now brush pens can be somewhat controversial with artists. I myself used to ink with your old fashioned sable brush and a hunt 102 crowquill. And most brush pens I've found suck, but I've fallen completely in love with the faber castell brush pen. It's the closest thing to a brush feel I've used and now every time I go to the art store I buy a box of them to make sure I don't run out. I then ink all the inanimate objects with their fine line pen. It just makes sense to me and I think it works. Here's the finished inked page.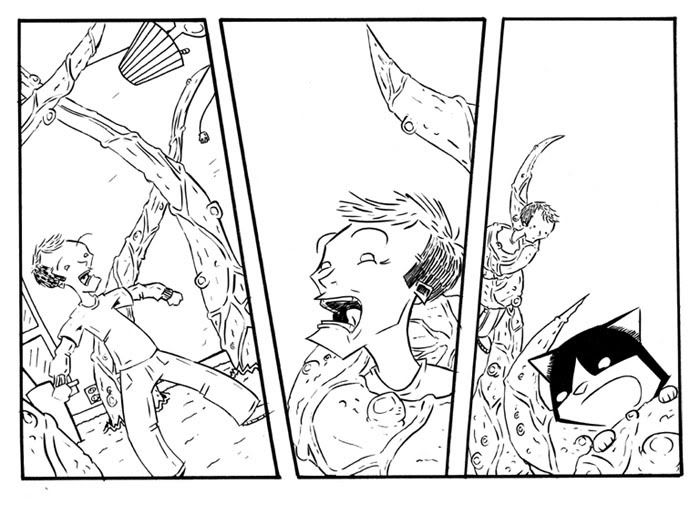 Now it's time to color. I scan the page into photoshop at 600 dpi as a black and white one bit image. There's other ways of getting the crisp black and white feel in photoshop, but that's the way I do it. I then reduce it to 300 dpi and turn it to an rgb image. I duplicate the layer and delete all the white from the top layer. This allows me to color on the bottom layer but keep the black, inked outline of the art untouched. I hope that makes sense. I've been using adobe photoshop for about a year or two now and I still probably don't know half the stuff in it. What I do like about photoshop is that there's a million ways to do the same thing. You can do what I do using the multiply funciton for example. It just depends on how you learn it the first time or how you prefer it. Just like drawing or paintiing.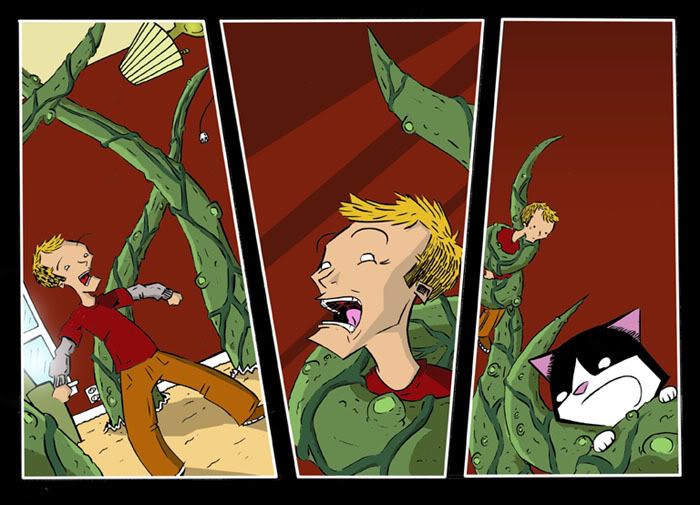 Now we have the lettering to get to. I have changed the process that I do this a lot. I used to do everything by hand. When we took the strip daily I sold out and started lettering on the computer. But I was still hand drawing the word balloons. In the past month or so I've sold out even more and started doing those on the computer too. Although I'm still trying to make them look as much like the old word balloons as possible. Why did I change? Well it's hard to get your word balloon to be the right size when you're lettering after the fact. Sometimes I didn't draw them big enough and more often I was drawing them too big and thought it made the balloons look empty. It also made me feel like I was wasting space. Now I have a finished episode to look to decide where a word balloon is going to fit best. The downside is that Im drawing some stuff that people will never see because it's being covered up. Trust me thought I cover up the bad stuff. Oh, and all the fonts I use are supplied by
blambot
. I think everyone pretty much uses Nate Peikos fonts now, he rocks.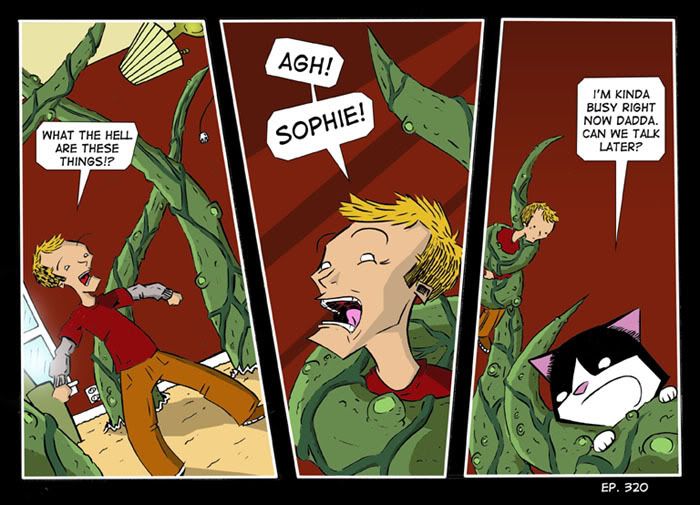 Above you see the finished episode. To get to this point so far it's taken me about four hours. It doesn't always take me that long. I've gotten episodes done in an hour and a half before. But this was rather detailed and I must say that I'm pleased with the results so far. Usually as soon as I post a page I instantly stop liking it. I was the same way when I did mostly mini comics too. As soon as it's available to the public I hate it. But I still really like this episode and I think it's gonna go down as one of my favorites.
Well I hope you've enjoyed this little "making of" post. If there's anything you think I should have gone into further detail about or you have questions about something I missed here feel free to contact me and maybe I'll do more of these.
Ryan H.